Structural steel fabrication is the process of bending, cutting and modeling steel to create a structure. For structural steel fabrication, steel parts are often put together to create different structures of predefined sizes and shapes. It is a complex process that requires specialized knowledge, skills, and resources to complete successfully. You can refer to YENA Engineering address for quality and fast solutions throughout this process.
Advantages of Structural Steel Fabrication
Steel is extremely durable, resistant to corrosion and must be stretched. The strength of steel is higher than its density, which makes it an excellent choice for construction and manufacturing.
Structural steel usually comes to the pre-production stage and is manufactured on site. Prefabrications, the amount of work that needs to be done on the site, benefit the acceleration of projects.
Structural steel is cost-effective compared to other metals such as copper, silver, gold, aluminum and magnesium. This cheapness is very beneficial in construction and manufacturing.
Structural steel components are easily assembled after fabrication, which, thanks to increased efficiency during assembly, saves significant costs and time.
The metallurgical properties of steel allow it to be easily produced in any shape and size. Structural steel is produced by welding or bolting together.
In the steel structure there is a layer of flame retardant material, which makes it extremely resistant to fire. It is water resistant.
Structural steel is an easily recyclable and environmentally friendly choice for metal manufacturers. As YENA Engineering, we are proudly working for an environmentally friendly and green future.
Structural Steel Manufacturing Process
The structural production process consists of several stages. This process requires highly skilled and experienced technicians and engineers who can take the raw components and turn them into quality products. With its experienced and competent staff in these processes, YENA Engineering provides superior benefits to structural steel needs. Each procedure is given below.
Stage 1: If you need to use steel parts, the idea stage plays an important role. Here the processor can produce any structural steel products. To complete the processing of steel, you need manufacturing drawings that correspond to the logistics of the project, such as delivery dates and budgets. The production of structural steel involves cutting, bending and welding steel to form structures. Unlike different types of welding, which repair or strengthen alloy steel, steelmaking combines steel parts to create different structures. Usually, the size and shape are predefined.
Stage 2: Shearing is the first part of structural steel fabrication. High-quality steel can be used in laser cutters and water jets. It needs to be cut with various tools, such as a cutter, a saw. This usually happens in a closed production facility. Commonly used methods are saws (cold saws or band saws), incineration and saws. The cutting process is generally limited to various structural steel parts. It is not used for larger components because the effort required and the resulting cutting quality limit the economic and practical feasibility.
The twist will come later. Bending of construction alloys with special machines; there are still many manufacturers who prefer to hammer alloys by hand. It also depends on the type of project. If you need to bend more than one steel repeatedly, it is much more convenient to use a machine.
The third is the source. After the steel parts are cut and shaped, the welding process begins to assemble them into a complete structure. It is used to create metal frames for buildings, bridges, vehicles and various other complex structures. Structural welds are also used for cutting and repairing beams, supports and rafters.
Stage 3: All steel parts are machined with part numbers and plate positions and are quickly, easily and accurately converted into fully assembled parts in the field. The assembly of components is an integral part of the steelmaking process. After the components are assembled, it is checked whether they meet the specifications.
The Use of Structural Steel in Construction
Structural steel is a valuable material, and many uses depend solely on it. Scope of application in construction;
Bridging
Parking space
Residential buildings
High buildings
Industrial buildings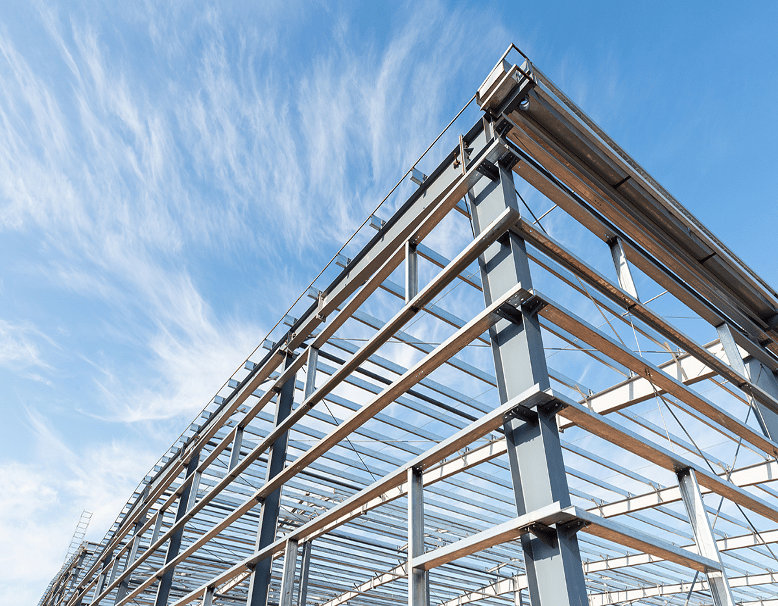 The Use of Structural Steel in Manufacturing
Manufacturing steel is also known as carbon steel or unalloyed machine steel. These are unalloyed steels with a carbon content of about 0.20 to 0.60%. They are also called carbon steels due to their high carbon content. Hardenability increases in direct proportion to the amount of carbon it contains, while toughness is inversely proportional to the amount of carbon it contains. If higher hardenability is desired, lower alloy steels are used. Manufacturing steel is often used in the engineering department for machine parts that do not require high durability.
They are widely used in the automotive industry and in machine building. The most produced products are as follows;
Types of Structural Contradictions
It is SAE 1030, SAE 1040, SAE 1050, SAE 1060, ST50, ST52, ST60, ST70, C30,C40, C50 and C60. Structural steel grades are known as C30R, C40R, C50R, C60R are sulfur-added steels. The sulfur addition is usually in the range of 0.020 – 0.035%.