Since its invention over a century ago, stainless steel has become the world's most widely used and popular material. Chromium content gives its resistance against corrosion. Resistance can be demonstrated in reducing acids as well as against pitting attacks in chloride solutions. It has a minimal maintenance need and a familiar shine, making it an excellent and finest material for stainless steel pipes. Stainless steel pipe is offered in a variety of product types, including welded pipes and seamless pipes. The composition can change, allowing it to be used in a variety of sectors. Stainless steel pipe is used on a regular basis by many industrial firms. In this blog post, different types of stainless steel pipes in terms of manufacturing methods and different standards are going to be mentioned. In addition to that, this blog post also contains different application areas of stainless steel pipes in different industries.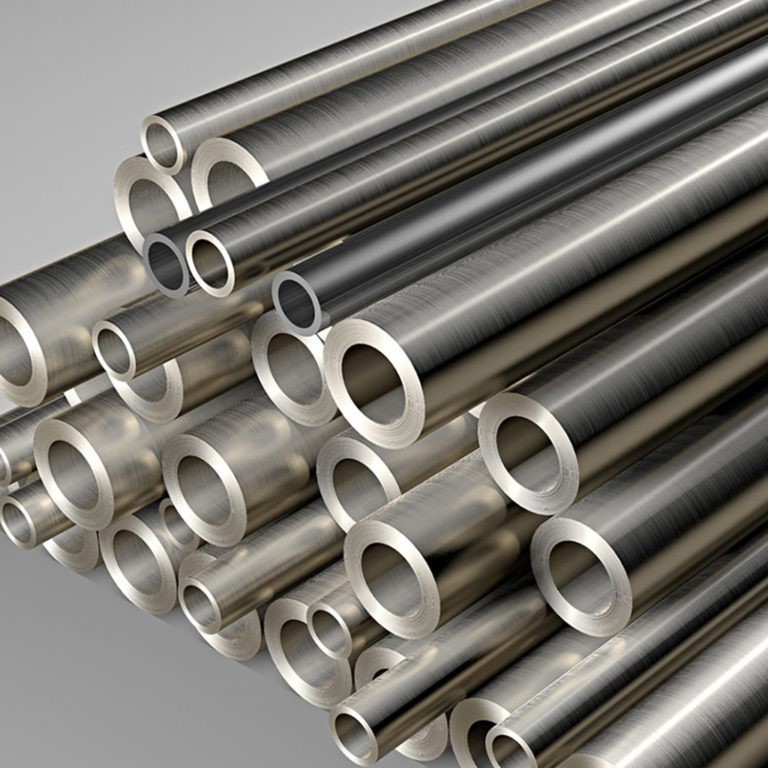 Different Types of Stainless Steel Pipes Based on the Production Method
The technique of producing welded pipes from continuous coil or plate entails rolling the plate or coil in a circular section with the help of a roller or bending equipment. The filler material can be used in large-scale production. Welded pipes are less expensive than seamless pipes, which have an overall more cost-intensive production method. Although these production methods, namely welding methods are essential parts of stainless steel pipes, details of these welding methods won't be mentioned. It could be a topic of another blog post of ours. Having said that, welding methods for stainless steel pipes commonly appear as abbreviations. It is important to be familiar with these abbreviations. There are several welded techniques, such as:
EFW– Electric fusion welding
ERW– Electric resistance welding
HFW– High frequency welding
SAW– Submerged arc welding (spiral seam or long seam)
There are also seamless types of stainless steel pipes in markets. In more detail, following the production of electric resistance welding, metal is rolled throughout its length. Seamless pipe of any length may be manufactured via metal extrusion. ERW pipes have joints that are welded along their cross-section, whereas seamless pipes have joints that run the length of the pipe. There is no welding in seamless pipes since the whole production process is done through solid round billet. In varied diameters, the seamless pipes were completed to the wall thickness and dimensional specifications. Since there is no seam on the body of the pipe, these pipes are utilized in high-pressure applications such as oil and gas transportation, industries, and refineries.
Stainless Steel Pipe Types – Based on Alloy Grades
The chemical composition of steel overall has a great influence on end-products mechanical properties and application areas. So, it is no surprise that they can be classified in terms of their chemical compositions. However, while trying to find out the grade of a specific stainless steel pipe, various types of nomenclatures can be encountered. The most used standards when designating steel pipes are DIN (German), EN, and ASTM grades. One can consult a cross-reference table to find equivalent grades. The table below gives a useful overview of these different standards.
| | | |
| --- | --- | --- |
| DIN Grades | EN Grades | ASTM Grades |
| 1.4541 | X6CrNiTi18-10 | A 312 Grade TP321 |
| 1.4571 | X6CrNiMoTi17-12-2 | A 312 Grade TP316Ti |
| 1.4301 | X5CrNi18-10 | A 312 Grade TP304 |
| 1.4306 | X2CrNi19-11 | A 312 Grade TP304L |
| 1.4307 | X2CrNi18-9 | A 312 Grade TP304L |
| 1.4401 | X5CrNiMo17-12-2 | A 312 Grade TP316 |
| 1.4404 | X2CrNiMo17-13-2 | A 312 Grade TP316L |
| | | |
Table 1. A part of a reference table for stainless steel pipe materials
Different Types Based on ASTM Specifications
It is a classic saying that industry and standards are closely tied. The manufacturing and testing results may differ due to differences in various organization standards for a wide variety of application ranges. The buyer must first grasp the fundamentals of various industrial specifications for their projects, before actually doing the purchasing operations. It is also an accurate saying for stainless steel pipes.
ASTM is an abbreviation for the American Society for Testing and Materials. ASTM International provides service standards and industrial materials for a wide range of industries. This organization has currently served 12000+ standards that are utilized in businesses all around the world. Stainless steel pipes and fittings are subject to over 100 standards. Unlike other standard bodies, ASTM includes almost all types of pipes. For example, as American pipe items, the entire spectrum of pipe is offered. Seamless carbon pipes with suitable specifications are utilized for high-temperature services. The ASTM standards are defined by the determination of chemical composition and particular production processes associated with the material. Some ASTM material standards are given below as examples.
A106 – For high temperature services
A335 –Seamless ferritic steel pipe (For high temperature)
A333 – Welded and seamless alloy steel pipes (For low temperature)
A312 – For general corrosive service and high temperature service, cold worked welded, straight seam welded, and seamless pipes are used
Different Typeof Stainless Steel Pipes Based on Application Areas
Sanitary Pipes: Sanitary pipes are made of stainless steel and are used in high sanitation applications such as sensitive applications. This pipe type is given the greatest priority in the industry for efficient fluid flow. The pipe has the best corrosion resistance and does not rust due to its simplicity of maintenance. Various tolerance limits are determined based on the application. Sanitary pipes with ASTMA270 grades are commonly used.
Mechanical Pipes: Hallow components, bearing parts, and cylinder parts are commonly utilized in mechanical pipe applications. The mechanics may be readily regulated to a broad range of sectional shapes such as rectangular, square, and other shapes that add up to conventional or traditional shapes. A554 and ASTMA 511 are the most often utilized grade kinds in mechanical applications. They have excellent machinability and are used in applications like automotive or agricultural machinery.
Polished Pipes: The polished stainless steel pipes are utilized in the home facility depending on the specifications. The polished pipes aid in the reduction of wear and tear on working components. It also aids in the reduction of adhesion and contamination of various equipment surfaces. The electropolished surface has a wide range of uses. Stainless steel polished pipes do not require any extra coating. Polished pipes have an essential and critical role in aesthetic and architectural applications.
These were some types of stainless steel pipes based on different criteria. Detailed information about manufacturing methods and properties of various grades is not given in this blog article. One should also be familiar with these two concepts. However, these two concepts are left for another blog post.
You may also want to look at these blogs:
When to Select Stainless Steel for Your Manufacturing
Quick Information About Stainless Steel, Stainless Steel Welding and It's Defects
6 Methods for Stainless Steel Welding
References
https://www.pipingmart.com/blog/metals/everything-about-stainless-steel-pipe/#astm
https://blog.projectmaterials.com/pipes/stainless-pipes-a312-a790/7